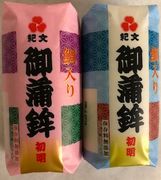 8.11oz
Ing :Red and White: Surumi(Croaker and/or Pollock and/or Seabream), Water, Egg White, Sugar, Sweet Rice Wine, Salt, Monosodium Glutamate, Sodium Acetate, Croaker Extract, Scallop Extract, Calcinated Shell Calcium, Natural Food Color(Cochineal), Dextrin, Calcium Chloride.
Contains: Fish(Pollock, Croaker, Seabream), Scallop, Egg.
Product of Japan

CHOOSE YOUR FAVORITE COLOR FROM THE PULL-DOWN MENU BELOW.