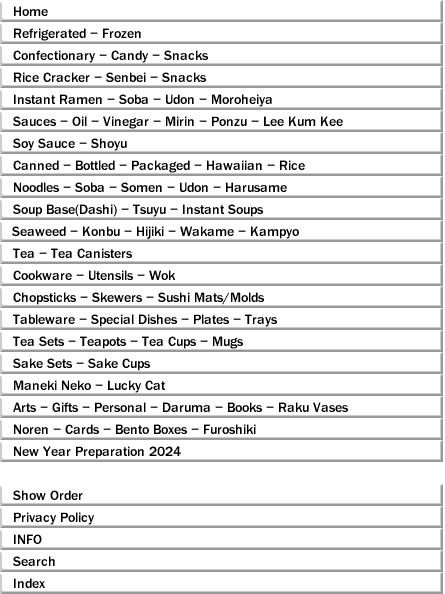 Welcome to Pacific Mercantile where you will find 1000's of Japanese and Asian Products.
What used to be pacificeastwest.com is now operated under Pacific Mercantile Company which means to you more new products and competitive pricing. Please return often as we are here to serve you with new, exciting, and hard-to-find Asian products. We are committed to ensuring you the finest products with online shopping convenience. You can write or email us with any questions or concerns.
If you do not see what you're looking for, CLICK THE EMAIL below, tell us what you are looking for or have questions about and we will be happy to find the answer for you.

Write to us:
Pacific Mercantile Co., 1925 Lawrence Street, Denver, CO 80202

Phone & FAX:Phone: 303-295-0293 / FAX: 303-295-2753

JUST CLICK BELOW for EMAIL REPLY:

questions@pacificmercantile.com

Copyright 2006. All Rights Reserved.



We accept VISA, MASTERCARD, AMERICAN EXPRESS and DISCOVER Credit Cards. In order to protect you against unauthorized charges, all credit card orders are subject to verification and approval.

SHIPPING Charges: The majority of our shipments are residential delivery and our shipping charges are pro-rated with the increased fuel sur-charges, increased rural and residential delivery charges plus packing/handling charges. To briefly explain our packing and handling:
We do not just throw items in a box. We make more than a usual effort in packing and the majority of the time you will find inner box packing, meaning packing in one box inside another reinforced with packing materials.
All of our customers are amazed with the care of our packing. If you order rice crackers, we do not want you to receive 'crumbs' when you open the box. In addition, shipping charges now have to include fuel sur-charge, rural delivery sur-charge (if your address is outside a metro or suburban delivery area.) These are standard FedEx Ground or UPS fees, not ours. Please call or email for shipping charges to Alaska and Hawaii. The shipping charge shown on the order page to Alaska or Hawaii is only the $3 handling charge.

ORDERS are processed & filled within 2 to 3 Business Days, Monday-to-Friday and shipped to ALL 50 STATES(SEE Alaska & Hawaii conditions below!)If you need more clarification, please click Contact Us

APO/FPO ORDERS: PLEASE DO NOT USE PAYPAY FOR ANY APO/FPO ORDERS BECAUSE ONLY THE HANDLING FEE IS ADDED TO THE TOTAL SHIPPING CHARGE. All APO/FPO orders will ship via USPS. The shipping charges on your APO/FPO orders will not reflect actual charges. You may default to $3.00 for shipping charges which will be the handling fee ONLY. If you enter any type of FedEx delivery for your shipping option this will NOT be your actual charges. Please contact us for actual shipping charges for APO/FPO addresses.



Status Information on Your Order
Allow two(2) to three(3) business days(Monday-Friday) to process your order(s) and ONLY IN-STOCK items will be charged to your credit card. All back orders will be automatically CANCELLED unless it is an item coming in within 1 week of a new shipment. There are five(5) shipping methods: Ground, 3-Day Delivery, 2-Day Air, Next Day Air, 1st Class Mail. All shipping methods will have a $3.00 handling fee added to the shipping table. US Mail shipments have to be taken to the Post Office by us for shipping. You will be prompted at the end of your shopping process to choose the shipping method. If you prefer an alternative shipping method, other than what we have mentioned, please let us know. We will try to accomodiate your shipping needs.


Ground will normally take about 3 to 5 business days (major city or major suburban areas; not rural destinations) to receive your order. Ground Shipping does NOT ship to P.O. Box unless it is a UPS Store or a P.O. Box located in a Business shipping/receiving store. PLEASE UNDERSTAND, if you choose 1st Class Mail, we cannot give you a tracking reference number. However, a Postal Delivery Confirmation Number via usps.com will be issued (except for APO/FPO addresses).

FedEx Shipping Simplified - DEFINED:

GROUND means 3-to-5 BUSINESS DAYS (average time) AFTER the processing days. Many of our customers have received in 3 days.
NEXT DAY means NEXT DAY AFTER the processing days.
TWO(2) DAY Delivery means 2 Days AFTER the processing days.
THREE(3) DAY Delivery means 3 Days AFTER the processing days.

Alaska / Hawaii shipments may have additional sur-charge or weight class shipping condition. Alaska / Hawaii does NOT qualify for GROUND at this time. Alaska / Hawaii is best shipped-most economical via US Postal System. Because Alaska / Hawaii is not set-up for FedEx Ground, it defaults to show $3.00 (which is only the handling fee). $3.00 is NOT the shipping for Alaska / Hawaii destination. FedEx Next Day Air and 2 Day Air is your other shipping options, but expensive.

Liability-WHO's RESPONSIBLE? Once your order leaves, you are responsible for your order. An e-mail message is sent to you with a tracking number when your order ships (1st Class Mail will have Delivery Confirmation if possible, except for APO addresses). The e-mail will include instructions explaining how you can track the shipment of your order online at the carrier's website. If there are any questions regarding the location of your shipment, you must contact FedEx's Toll-Free number at fedex.com and speak to a customer service rep. You must INITIATE the phone call to them at their toll-free number disclosed at fedex.com website. Please be diligent in this follow-up. They will help you locate or give you the update you need. Any and all damages are to be claimed through the carrier and not us.

Back Orders / Order Changes / Cancellations
Most of our products are imported. Therefore, any or all Back Orders are automatically cancelled unless prior arrangements are made or it is an item(s) that is coming in within 2 or 3 weeks. We never get accurate ETA (Estimated Time of Arrival) from our importers. Any changes to your order must be in writing via email to (questions@pacificmercantile.com) with your full name, address, and phone number in addition to your order change request.

Please note that Pacific Mercantile Company processes your orders electronically. Orders cannot be cancelled or changed if merchandise has been shipped.

Returns or Exchanges (14 Days)
Pacific Mercantile guarantees your satisfaction with the merchandise you purchase from us. Products may be returned within 14 DAYS after receipt. (Food products must be in its original manufacturer sealed condition). Please email us at questions@pacificmercantile.com if there is a need to return your order, & in the SUBJECT LINE - please write RETURN REQUEST. All returns must be accompanied with a Return Merchandise Authorization (RMA). The body of the email must describe in detail why you are requesting a return authorization.

20% RE-STOCKING CHARGE will be assessed and deducted to your return less any damages and missing parts including packaging materials. ALL SHIPPING COSTS related to return shipping must be paid by the customer. REFUND CREDIT to your credit card WILL BE THE TOTAL ITEM PURCHASE RETURNED COST LESS 20%. SHIPPING CHARGES (TO or FROM You) are NOT refunded.

* Do not mark or deface original package or original manufacturer containers in any manner. * We will not accept returns if packaging is not in its original condition – we will return such items to you. If you reject that return shipment, Pacific Mercantile reserves the right to liquidate the inventory and withhold credit.

Copyright 2007. All Rights Reserved. Pacific Mercantile reserves the right to correct any typographical errors, pricing errors, or content error at any time without notice and make product, promotional changes at any time. We shall have the right to either honor or refuse/cancel any orders placed based on inaccurate information or at our sole discretion. All trade names/trademarks and logos are the properties of their respective owners.