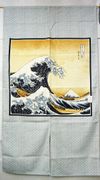 Noren Wave This famous Hokusai Wave Noren measures 33.5" across x 59" down. Material is 60% Rayon and 40% Cotton. Makes for a wonderful wall decorative piece or hang it the traditional way by any doorway or walkway.

This famous WAVE DESIGN is also available in Furoshiki section of our website and Greeting Cards...please click and view them at the designated section.

CLICK HERE-Furoshiki Hokusai Wave will take you to see the Hokusai Wave in furoshiki section.



Katsushika Hokusai (葛飾北斎) (1760-1849) was an Edo period Japanese artist, painter, wood engraver and ukiyo-e maker, born in Edo (now Tokyo). Author of the 13-volume sketchbook Hokusai manga (begun in 1814) and the block prints "Thirty-six Views of Mount Fuji," (created around 1823-1829), which includes "The Great Wave at Kanagawa." He is considered one of the outstanding figures of the ukiyo-e, or "pictures of the floating world" (transient pleasure-seeking, i.e., the world of theaters, restaurants, teahouses, courtesans and geishas), school of printmaking.

His art was an important source of inspiration for many European impressionists like Claude Monet. Both he and Hiroshige have had an enormous impact on landscape painting worldwide.